How To Play Piano by Chords
Learning to play piano by chords is a great way to start playing if you want to:
play songs you hear on the radio
sing along to what you play
learn to play piano quickly
be creative and not follow written music to play
It is a great approach for older teens and adults who'd like to play piano as well. 

Why?

Classical piano really does take a long time to learn and is very focused on getting things right.

Chords Are Different

Chords are based on patterns. These patterns are based on music theory (that you can learn) and once you understand it, you can play any chord you want whenever you want - without looking it up. 

So you don't need written music to play chords. 

You do need to understand chords titles, key signatures and how chords are made up.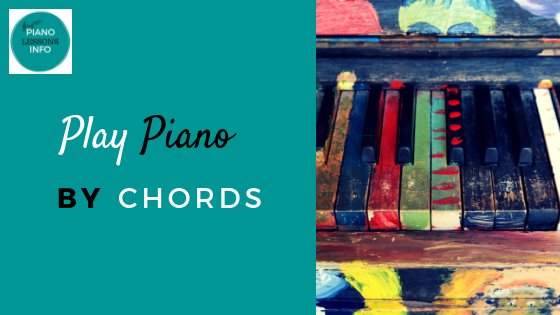 How To Start

Here is the step-by-step approach you need to take to learn to play piano by chords.
If you are a complete beginner, you need to learn the notes of the piano first. 

Step 1. Learn the notes on the piano keyboard.

You can do that on this site by going to the piano key notes page which will explain it all. You can also go to the piano keys video lesson.
(If you're really serious about this, you may also want to check out the best online piano lessons course, Piano For All, which is really popular and is great at teaching chords.)

Step 2. Learn some basic chords. 

Basic chords basically involve playing 3 notes together and are major and minor chords. Go to the basic piano chords page to learn more about them.
From here, you can look up chords to a song like Hallelujah by the Jeff Buckley. If you find the song has simple chords, you can try playing it.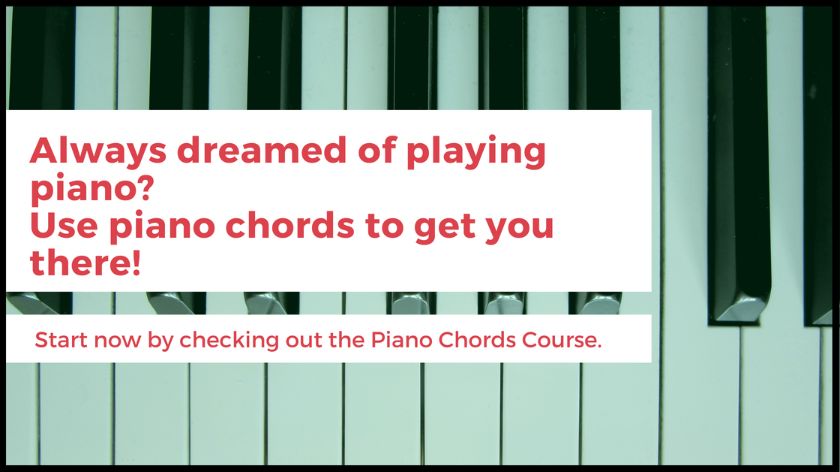 Step 3: Download the free Ultimate Piano Chord Cheat Sheet.

This will give you the notes to all chords and is a great resource for looking up chords while you're learning.
Free

Download:

Ultimate Chord Cheat Sheet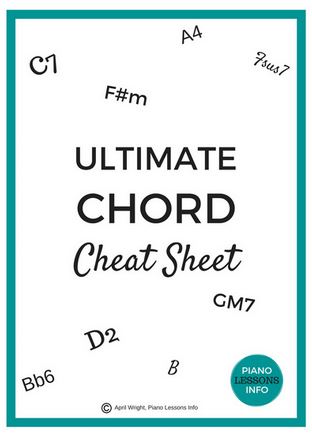 Subscribe below and get free access to the (printable) Ultimate Chord Cheat Sheet.
Step 4: Keep learning more about chords.

Your approach depends a little bit on you and your experience. There is a lot of information about chords on this site to help you.
Here's a list in order from beginner stages to more intermediate chord information. Our chord piano lessons page will also take you through some basics and on.

What are piano chords? A short summary of what chords are.
Understanding piano chords. A short summary of the different elements that make up chords.
Basic piano chords. The notes and an explanation of basic chords.
Understanding chord titles. An explanation of chord titles and what they mean.
How to make chords. The elements of chords and how to put them together.
How to play chords. Some tips on the actual piano playing part of chords.
How to read piano chords. A more advanced explanation of how chords are made up and their various elements.
Playing melody with your chords. 
How to filling in piano chords. 
For reference, you can also check out the chart of piano chords.

Step 5: Take an Online Piano Course

Learning to play piano online through a systematic approach will ensure you don't miss learning something that you don't know about. 
It is also easier than trying to figure it all out on your own. 
I have a few course on chords. 
The first is my full chord course called You Can Play Piano Chords. This goes through everything you need to know to play chords well. 
You can also join the Piano Chords Club which has lots of 4-8 lesson mini courses centered around specific topics (like rhythm or melody with chords) to help get your chords to the point of sounding like beautiful music. 
The cost of learning online is the same as a few lessons with a teacher so this is a great way to save money as well.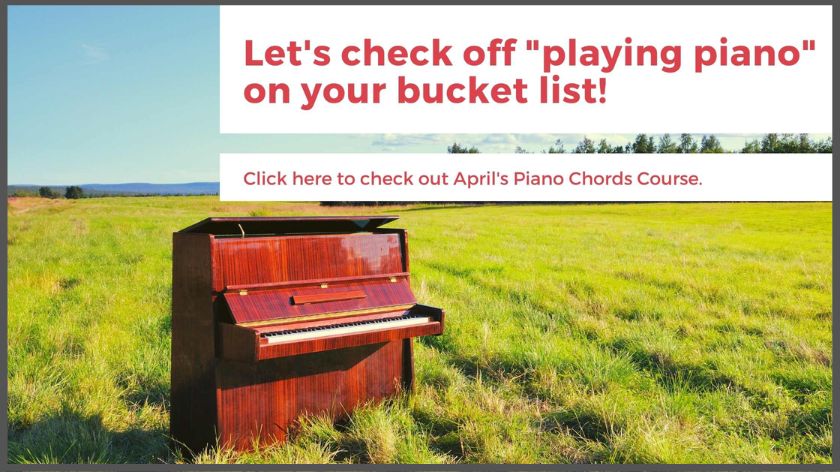 Step 6: Practice, practice, practice.

The more you practice, the better you'll get at chords and the easier it will be to keep going and play a wider variety of music. From here on out, it's all playing!
Enjoy!
Return from Play Piano by Chords to Piano Lessons Info Homepage.



Aug 27, 23 08:10 PM

Learn how to play the Ab7 piano chord including notes, inversions, chord chart, video and more.

Aug 14, 23 12:54 AM

Chord progression practice is important & can take you far. Here are my top 10 tips plus progressions to practice on piano

Aug 13, 23 10:42 PM

Learn some great tips for teaching beginner piano lessons including lesson activities & materials, taking payments, behaviour issues & what to do in lessons.