The Best Piano Sheet Music Subscription I've Found
Finding piano music to play can be a challenge. You need to find music that is right for your level, is in the style you like and have choices. Not everyone likes the same music. 
I have recently come across a really cool program called Oktav that solves a lot of these challenges because it's based on a personalized algorithm plus it has lots of music on offer. 
Below I'll go into:
what Oktav is
my review of Oktav
does this work for beginners?
how does it work

What Is Oktav?
Oktav is an online platform that has a very large range of sheet music. What is cool about it is when you sign up you:
Enter in your level (beginner to professional - based on music you see)
Enter in the style of music you want to play (classical, jazz, musical theatre, pop, etc)
From there, Oktav puts together recommendations to suggest to you for what to learn. This is all based on an algorithm. 
You refine this as you go by telling Oktav what you liked or didn't like and what might have been too hard or too easy. That is what is so cool about this.
You can take a look at the Oktav website here to see what it looks like.
My Oktav Review
I quite liked Oktav and how it looks and functions. I was able to find lots of new music to try and some of this is music that you wouldn't always find in a music store. 
Being able to access all of this music costs about the same as buying 2 pieces of music to download so I do think it's a bargain. The subscription cost is between $9-15 per month depending on your currency and if you're paying annually or monthly.
This platform will work well for all levels - from beginner to advanced and I really liked how it suggested music for me that I wouldn't have found otherwise. 
Oktav sheet music is available in a few different ways or modes so you can read it in a way that best suits your device.
Does Oktav Have Good Piano Music for Beginners?
Yes, you can find a variety of beginner piano music. There are a number of arrangements available for different songs so you can learn something you like but it can be an easier version. 
As beginners can tend to move through a lot of music as they are learn, this is a great piano sheet music subscription to have. It'll also advance with you and you can level up as you're ready. 
What About More Advanced Players?
Oktav is great for experienced and advanced piano players. There is music to suit every level and you'll help inform the algorithm what is right for you the more you review what it's giving you. 
Oktav has all the classics for advanced players plus more.
How Does It Work?
Basically, Oktav sheet music works like this:
You sign up and enter in your level and preferences
Oktav suggests sheet music for you OR you can search for specific artists or songs you like
When you find something you want to learn, you mark it or favourite it that way
You get to practicing using your new sheet music. 
It's quite simple and easy to use.
How Do I Access Oktav Sheet Music?
You can access Oktav here. Have a look around, see if you like it, and give it a try. Remember, you can sign up for only a month to see if you really like it but it's proven to be a very popular platform among piano players so far.
Enjoy and happy practicing! 
Free

Download:

Ultimate Chord Cheat Sheet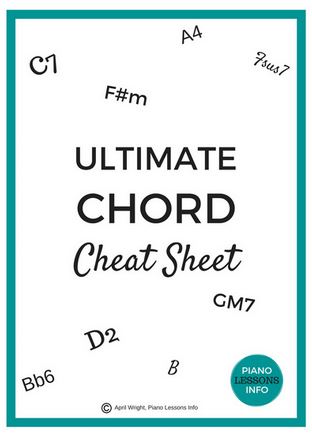 Subscribe below and get free access to the (printable) Ultimate Chord Cheat Sheet.


Nov 20, 23 10:21 PM

Find a piano notes chart for treble clef and bass clef notes as well as the different types of notes.

Oct 24, 23 12:20 AM

Learn how to play the D chord on piano with diagram, fingering, D/A, D/F# and a theory explainer.

Oct 09, 23 09:23 PM

Learn the different diminished piano chords and how to make them. Here you'll find both a diminished chord chart and an explanation.