Join The 14 Day Piano Chord Challenge!
Come and join in on the 14 day chord challenge!
This challenge is perfect for anyone just getting started with chords and even just starting to learn piano. 
You will get one email every day with a new chord and new chord progression to learn and play. 
Sign up here or learn more about it below.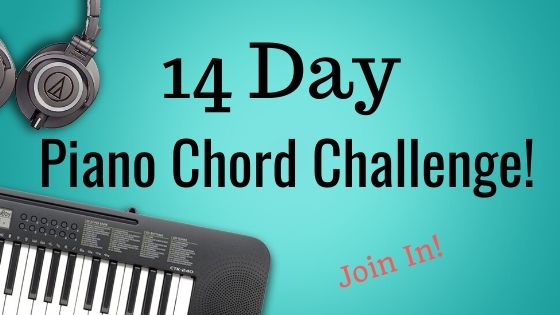 About The Piano Chord Challenge:
What Is It?
Basically, you will get emailed a new chord to learn every day for 2 weeks.
After the first day, you will also get a chord progression to practice this chord with. (If you don't know what this is, that's okay, there'll be more information on this in the challenge.)
I have run other chord challenges and they've been really popular, so you should enjoy this one.
What's The Goal?
We've got a few different goals here:
To teach you 14 chords
To get you playing chords
To get you playing chord progressions (groups of chords)
To begin a routine of playing the piano most days
What Do I Need To Know First?
You need to know:
1. How to sit at the piano / keyboard. (Sit straight on the edge on your chair or bench.)
2. How to hold your hands (click here to learn). 
3. The notes on the piano (click here to learn).
(You DON"T need to know how to read music.)
Will I Have To Play Piano Every Day?
No, you don't. The goal is to teach you some new chords and one benefit is that it will start the habit of practicing but you don't have to do it every day. 
You will be able to catch up and learn a few chords in one day if you need to.
You don't even need to complete the challenge in the 2 weeks, if you go longer that's okay. This is for fun! :D
When Does It Start?
It starts as soon as you sign up. You'll be able to start right on day 1.
Are You Up For The Piano Chord Challenge?
Sign up right here.
Bonus! You'll also get the free download: The Ultimate Chord Cheat Sheet. 

Aug 27, 23 08:10 PM

Learn how to play the Ab7 piano chord including notes, inversions, chord chart, video and more.

Aug 14, 23 12:54 AM

Chord progression practice is important & can take you far. Here are my top 10 tips plus progressions to practice on piano

Aug 13, 23 10:42 PM

Learn some great tips for teaching beginner piano lessons including lesson activities & materials, taking payments, behaviour issues & what to do in lessons.