Pachelbel's Canon Piano Lesson Series
In this piano lesson series, we will be learning to play Pachelbel's Canon - but in the key of C - in order to practice and learn a number of different things. 

This series focuses on:

Basic chords (the foundation)
Playing melody by ear
Chord inversions 
Playing chords in different hands
Playing chords and melody together
Playing broken chords in left hand
Creating more complex chords and playing this piece of music more "outside the box"
It's recommended that you have the free Ultimate Chord Cheat Sheet for this one. You can click the free download image below to get that or sign up at the bottom of the page. 

---
Lesson 1: Play Pachelbel's Canon With These 5 Basic Piano Chords
The chord progression for Pachelbel's Canon that we're using for this lesson is:
C  G  am  em  F  C  F  G
If you would like to try this in the original key of D, the chord progression is:
D  A  bm  f#m  G  D  G  A
---
Lesson 2: Simple Chord Inversions
In this lesson we learn a simple but important technique for playing chord inversions. 
Remember that an inversion is a standard rearrangement of the notes of the chord. We are practicing the first inversion in this lesson. 
---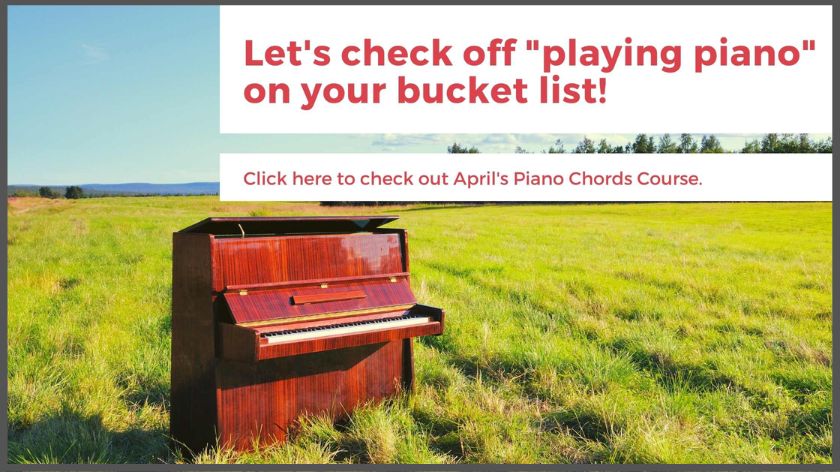 ---
Lesson 3: Learning to Play the Melody
In this installment, we're working on our ear. And by that I mean learning to play a melody by figuring it out by hearing it. 
This is an important skill to either start to learn or continue to improve.
View the video lesson below. 
Here are the practice chords for you to play the melody over:
---
Lesson 4: Playing Inversions & Adding Melody
In this lesson we are expanding on playing inversions. Not only that, we are adding in the melody we worked on in the last lesson. We want to add the melody note on top of the chord.
The main melody notes I play with the inversions here is E D C B A G A B.
With the chords: E (C chd) D (G chd) C (am) B (em) A (F chd) G (C chd) A (F chd) B (G chd)
---
Lesson 5: Learn 3 Broken Chord Techniques for Left Hand

Broken chords (not playing all the notes at the same time but individually) are important to learn. There are a number of good and common left hand techniques to learn and play. 
In this lesson installment, we'll learn a few of these to practice and play. 
---
Lesson 6: Putting It All Together
We're putting all of our hard work together into actually playing Pachelbel's Canon - our version of it anyway. 
Here's the video lesson:
---
Lesson 7: Making Chords More Complex & Interesting
In this final video of the series, we're going to take something quite traditional and make it ... well how we want it to be.
By this I mean we're going to take the chords we've been playing and expand them into others types of chords. This will make them more complex, different, interesting, jazzy or whatever you want really. 
The video lesson:
---
That's the end of the series! I hope you enjoyed it and learned something new.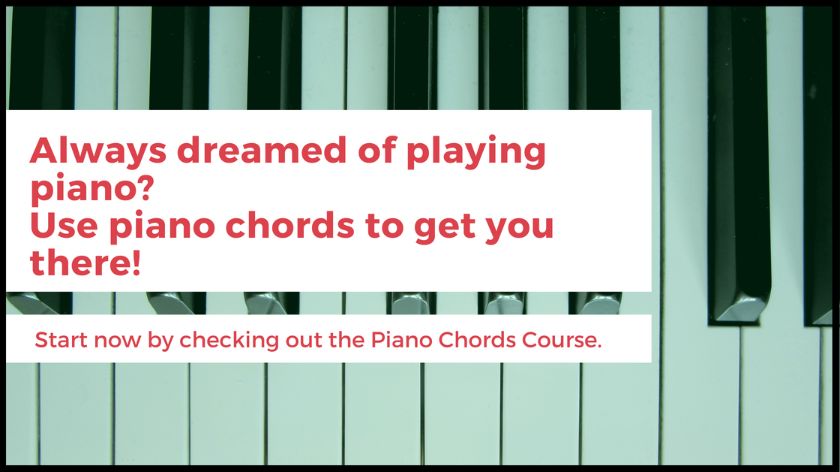 Nov 20, 23 10:21 PM

Find a piano notes chart for treble clef and bass clef notes as well as the different types of notes.

Oct 24, 23 12:20 AM

Learn how to play the D chord on piano with diagram, fingering, D/A, D/F# and a theory explainer.

Oct 09, 23 09:23 PM

Learn the different diminished piano chords and how to make them. Here you'll find both a diminished chord chart and an explanation.