Piano Scales Video Lesson  and Fingerings
Many piano scales are played with the same fingering pattern. If you are just learning scales, start with the C major scale. It uses the fingering pattern for many other scales.
C Major Scale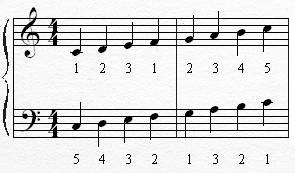 Notice that the left hand and right hand are different.
Here's the main pattern:
RH: 1 2 3 1 2 3 4 5 (back down goes: 5 4 3 2 1 3 2 1)
LH: 5 4 3 2 1 3 2 1 (back down goes: 1 2 3 1 2 3 4 5)
Here's the video lesson:
After you learn the C major scale, you should learn the G major scale. It has one sharp (a black note). Instead of playing F, you need to play the black note to the right of F - that's F#.
G Major Scale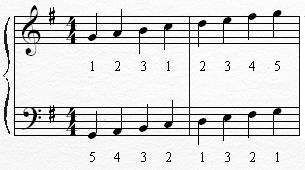 Here are the rest of the major scales with their fingerings. (Reverse them to go back down.)
D Major Scale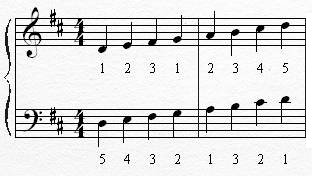 A Major Scale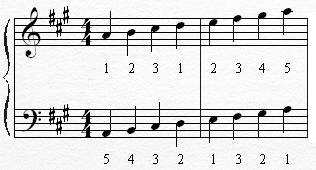 E Major Scale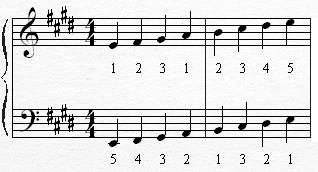 B Major Scale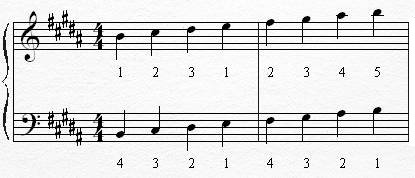 F Major Scale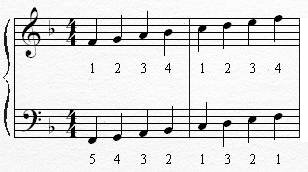 Bb Major Scale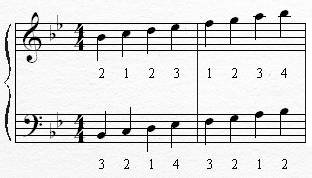 Eb Major Scale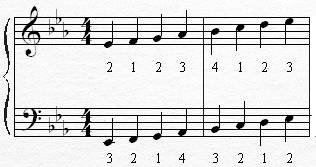 Ab Major Scale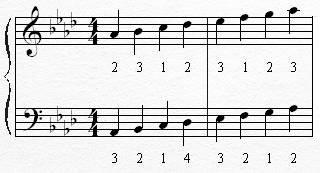 Db Major Scale (also C# major scale)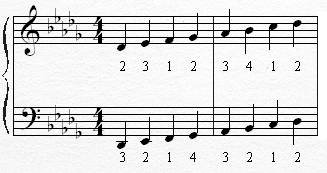 Gb Major Scale (also F# major scale)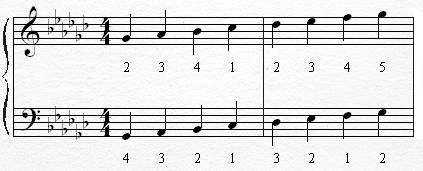 Return from
Piano Scales
to
Piano Lessons Info Homepage.



Nov 20, 23 10:21 PM

Find a piano notes chart for treble clef and bass clef notes as well as the different types of notes.

Oct 24, 23 12:20 AM

Learn how to play the D chord on piano with diagram, fingering, D/A, D/F# and a theory explainer.

Oct 09, 23 09:23 PM

Learn the different diminished piano chords and how to make them. Here you'll find both a diminished chord chart and an explanation.