Piano Lesson Series
We have done a number of different piano lesson series. 
This page will list and talk about the different series and you can choose one you like to learn from. 

---
This 7 part series takes you through learning some basic chords, playing melody by ear, chord inversions, chord-playing techniques and more. We do this all using Pachelbel's Canon. 
Go to the Pachelbel's Canon Series Lesson page here. 
---
If you are just starting with learning chords, join in on the 14 day chord challenge.
Here you'll learn one chord per day for 14 days. You'll also be given a variety of chord progressions to play and learn. 
Want to take me up on the challenge? Start here. 
---
The first challenge I ever put together was this 30 day chord challenge. This one offers a wider variety of chords - mostly due to it being double the length of the 14 day chord challenge. This one is also really popular.
You can choose which one to start with. It all depends how long you want it to last. With this one, you'll get an email every 3 days. With the 14 day challenge, you get an email with a new chord every day. 
Click here for more information on the 30 Day Chord Challenge and to join in. 
---
Practicing chord progressions is a great way to both learn chords and to enjoy playing piano. 
I often send chord progressions when teaching new chords but there can be some confusion over how to best practice them. 
This guide will teach you how to level up your practice while practicing chord progressions. 
Go to the Chord Progressions Lesson. 
---
How To Play Lead Sheets
Lead sheets are written melodies with chords written on top. You can learn how to play these following these steps:
Review how to read music (if necessary).
Learn / review chords or chord theory.
Learn how to play lead sheets with video below.
---
Free

Download:

Ultimate Chord Cheat Sheet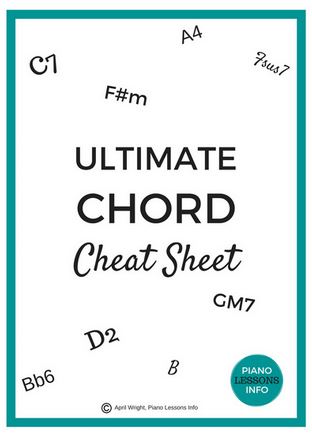 Subscribe below and get free access to the (printable) Ultimate Chord Cheat Sheet.