Beginner Piano Music
There are two main ways to go about getting beginner piano music. The first is working through a book, the second is picking out pieces you'd like to play (and I have a great resource for this). 
Beginner Piano Books
There are 2 different areas of piano books.
1. Books that teach you to play piano and use different beginning pieces for each technique.
Using these books helps you not to get overwhelmed if something is difficult or if you haven't learned it yet. They have music that progresses from easier to harder. If you want to know what books I think are the best for beginners, click here.
2. Books of only beginner music.
If you are a real beginner (as in just starting), these books of beginner piano music may be a little challenging. Do them second.

Many piano series have books that accompany the level within certain themes. For example, Alfred's Basic Piano Library Popular Hits has some of the most popular pop songs in beginner music. (This is quite popular with some students.)

When you get a book of this sort, you know that you are certain to have songs all within a certain level. That is the main benefit. And when you have mastered them, you can move on. 
Beginner Music For Adults Vs. Kids
Piano books for adults are different than they are for kids. Generally they go a little faster. I recommend some of my favorites adult books on my adult books page.
Here are two good beginner piano music book choices - just music to play. 
Famous & Fun for Adults -- Pop, Bk 1: 11 Piano Arrangements of Popular Hits 
Piano Fun-Pop Hits For Adult Beginners Book/Audio Online 

Also, if you are hoping to improve your piano playing and understanding, I would also recommend a technique or theory book. 
Beginner Piano Music: Best Digital Sources
One of my most favourite music resources is the Sheet Music Membership at Virtual Sheet Music. If you want to choose individual pieces to play, it is the best and cheapest way to go. 
The membership here is pretty cheap and includes free access to more than 2000 pieces. You can print or download the music you want to play immediately and if you don't like the piece, it's easy to get another one you like better.
They also provide Mp3 and MIDI files so you can hear what it is supposed to sound like. If you don't have a teacher, this is a really great benefit. 

Free Beginner Music
This is a good list of beginner pieces. They're free too. Some of them are a little challenging for a beginner but you can find what's right for your level. 
I hope that helps you in your search and happy playing!
How About Skipping Music But Learning Piano?
One of the things I really focus on teaching here is piano chords. This is also a great thing to learn and I recommend it for all teen and adult learners. 
You don't need to read music to play chords and it's quite a quick way to get started. You don't need to abandon reading music but this just get you playing songs you love faster. 
To learn more about my course, You Can Play Piano Chords, click here.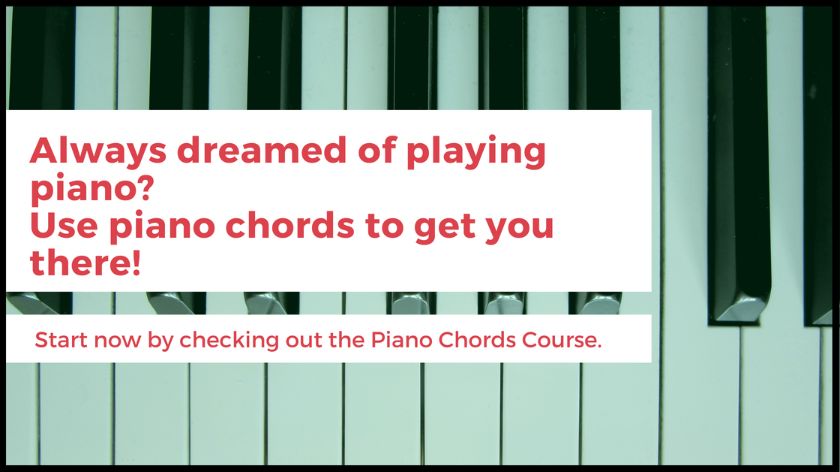 Free

Download:

Ultimate Chord Cheat Sheet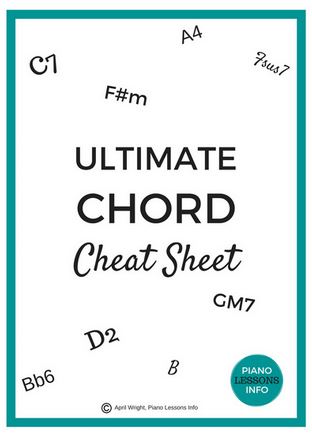 Subscribe below and get free access to the (printable) Ultimate Chord Cheat Sheet.
Return from Beginner Piano Music to Piano Lessons Info Homepage.