How to Play B7 Piano Chord
Once you're at the point of learning the B7 piano chord, you've generally learned the basic chords and you're at the point where you're not to scared of playing with a few sharps. 
The B7 chord is a 7th chord and often found when you're playing in the key of E. Here you'll learn:
And you'll also find a number of variations for B7 including:

B7 Piano Chord Notes
The notes of the B7 piano chord are: B  D#  F#  A
You can play these notes in your right hand or left hand. Most of the time you'll want to keep B as your root note at the bottom. 
B7 Piano Chord Chart
You can tell B7 is a 7th (technically a dominant 7th) chord because it has a root note - B -  and the 7 that follows. 
There are other types of 7th chords like major sevenths (BM7 for example) and minor sevenths (like Bm7). If it doesn't have an "m", it's a dominant 7th chord. 
How to Play the B7 Chord on Piano: Video & Sound
The video below will show you how to play the B7 chord on the piano in your right hand. You'll also hear how it sounds as all 7th chords have a distinctive sound to them. 
B7 Chord Alternative (for any instrument)
Sometimes, the B7 chord can be difficult to play. Either your hand is smaller or you find 4 note chords like these difficult. 
While it is still good to practice this chord so that you can get better at it, there is a very good alternative - the B chord. 
You can use the B chord anytime you need an alternative for B7. You'll miss that extra sound that the A note brings to the chord but it will sound find and not out of place. 
B7 Piano Chord Finger Positions 

When you play the B7 chord on piano, you might find it a bit of a stretch if you are still new to 4-note chords. However, this one is pretty comfortable to play with the two sharps in the middle.
To play B7 with your right hand, use fingers 1, 2, 4 and 5. That's everything but your middle fingers.
Left hand is the same but a different order - use fingers 5, 4, 2 and 1. Again, everything but your middle finger.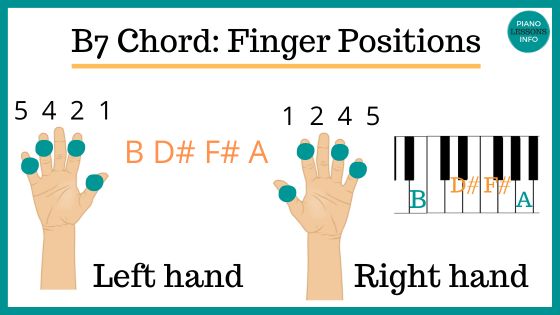 B7 Chord Variations
B7 is one of the common chords to use in a whole variety of ways. B7 makes the root of these chords but there are a variety of ways to change it up.
Here are a number of common chords you'll find using B7 but altering it in some way.  
B7sus4 Piano Chord
The B7sus or B7sus4 (or Bsus7) chord combines the 7 of B7 with the Bsus or B suspended chord. 
So what we have is Bsus: B E F#
And add the 7th on top: A
That means the B7sus4 notes are: B E F# A.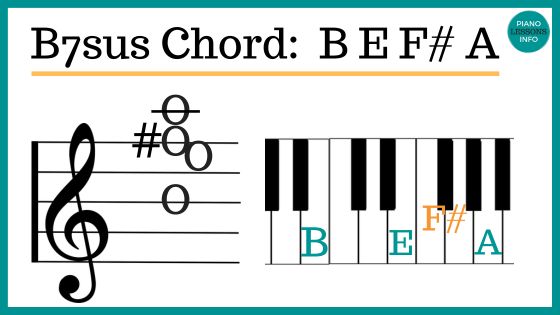 B7sus Piano Chord Chart
B7/D# Chord
When you see a slash and a note after it like in B7/D#, this doesn't change the notes of the chord but it does change your bass note. 
B7/D# means to play D# as your bass note or the lowest note in your left hand. If you are playing the full chord in your left hand, you'll need to play the first inversion of B7 to keep D# as your lowest note. 
B7/F# Chord
B7/F# is another type of slash chord. You play all the notes of the B7 chord but you play F# as your bass note in the left hand. 
Another way to think of this is as the 2nd inversion of the B7 chord. However, if you're mostly playing the chords in your right hand, you'll want to focus on keeping F# as your left hand bass note. 
B7#5 Piano Chord
When you see the B7#5 chord, it's letting you know that you need to play the B7 chord but alter the 5th note which is F#. We need to raise it another semi-tone. 
Now this might be a little confusing so we'll go over 2 things here - why it's the 5th and raising a sharp. 
The 5 in this #5 is found but counting up the B major scale until we reach the 5th note. So: B C# D# E F#. F# is the 5th degree of the B major scale. 
But how do you make a sharp ... sharp? Or raise it further?
You can actually turn a sharp into a double sharp. In written music this looks like an x. 
So looking below, you'll see F. F# is the black note between F and G. Fx (F double sharp) is the one after the black note and that means it is actually G.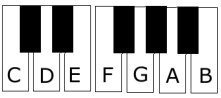 This means the notes of B7#5 are: B  D#  G  A. 
The G should actually be written Fx but I think it'll be easier for you to think of this as a G when you play the chord. 
B7#9 Piano Chord
The B7#9 chord is another instance where we are turning a sharp into a double sharp (which we talked about above in B7#5).
The notes of the B7#9 chord are B  D#  F#  A  Cx (or D). 
How did we get to those notes?
The B7 chord is normal: B  D#  F# A.
Now to get to the #9, we count up the B major scale until we get to the 9th note:
B  C#  D#  E  F# G#  A#  B  C#
Now we need to raise the C# by one semitone making it a double sharp: Cx.
Cx or C double sharp is the same note on the piano as D.
It is called a double sharp for reasons that have to do with music theory. 
How Do You Make A B7 Chord (Chord Theory)
We've touched on a good bit of theory already but another important thing to know about the B7 chord is how to make it yourself. To do this, we need the chord formula and the major scale. 
The chord formula for 7th chords is: 1, 3, 5, b7
Those number are referring to notes of the major scale. 
Here is the B major scale: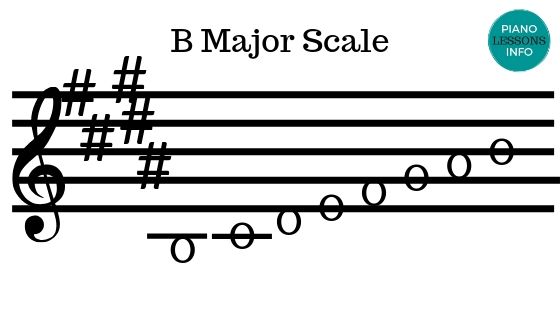 Notes: B C# D# E F# G# A# B
Now let's apply the chord formula to the major scale:
1 = B
3 = D#
5 = F#
b7 = A  (A# lowered by one semitone is A)
Knowing your scales and key signatures and understanding chord formulas will help you learn any chord you come across. 
If you need more help understanding key signatures, visit the key signatures page.
If you need to look up more chords, visit the Piano Chord Charts page or download your own copy below.
Free

Download:

Ultimate Chord Cheat Sheet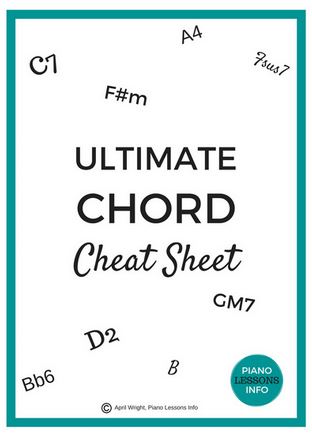 Subscribe below and get free access to the (printable) Ultimate Chord Cheat Sheet.


Aug 27, 23 08:10 PM

Learn how to play the Ab7 piano chord including notes, inversions, chord chart, video and more.

Aug 14, 23 12:54 AM

Chord progression practice is important & can take you far. Here are my top 10 tips plus progressions to practice on piano

Aug 13, 23 10:42 PM

Learn some great tips for teaching beginner piano lessons including lesson activities & materials, taking payments, behaviour issues & what to do in lessons.