How Much Is A Piano Mover
And Do You Really Need One?
Moving a piano is no small feat. Whether you're relocating to a new home, selling your piano, or simply rearranging furniture, this task is a big one.
When you're getting organized, a question you might be asking is "how much is a piano mover?" It's a big question for anyone considering buying a piano as well. Let's get into that below so you're well-prepared to make an informed decision and to get your piano safely from one spot to another. 

First Question: Can You Move A Piano Yourself?
While it is possible to move a piano yourself, if you have at least 4 people to help, it's not advisable. 
Pianos are really heavy, awkward and large. The risk of injury to someone, a vehicle or the piano is on the higher end. 
I would always recommend hiring professional movers or professional piano movers. 
If you're unsure, there are quite a few videos on Youtube showing failed moves but also techniques people have used to move pianos. So have a look first if it's something you're contemplating doing yourself.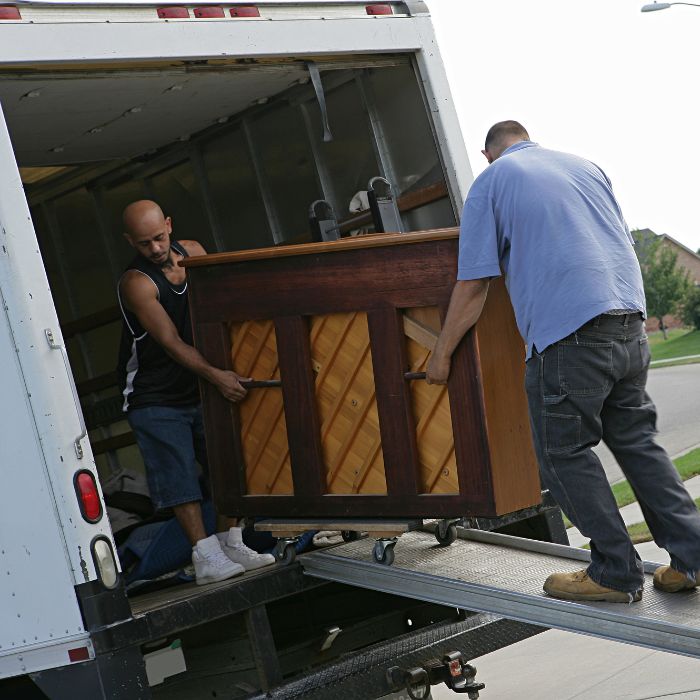 How much is a piano mover - professionals
Key Factors That Affect The Cost of A Piano Move
You'll find as you research how much a piano costs to move, that lots of moving companies will want to give you a quote. And you just want the price! A ball park figure. 
They want to give you a quote because the cost depends on a number of things:
how far you're moving the piano
the type of piano (baby grand, upright, or grand)
accessibility at both the pickup and delivery locations
any additional services required (such as stairs, elevators, or anything tricky) 
But here's what will help you. If you have an upright piano with no tricky accessibility, you can get an idea of what it'll cost by figuring out how long it'll take to move your piano in terms of hours. 
If you're moving your piano one hour from where it is now, you may be able to estimate the cost of the move by that hourly rate from the moving company. Depending on your area, that could be $120, $150 or $180. 
Average Cost of Hiring a Piano Mover
The cost of hiring a piano mover can vary depending on the factors mentioned above but we can come up with an idea of the cost.
On average, you can expect to pay between $200 and $1,000 for piano moving services. Local moves within the same city or nearby areas generally fall within the lower end of the price range, while long-distance moves or moves requiring more complex logistics may be on the higher end.
Moving a piano isn't cheap but it's worth using professionals to protect and preserve your instrument. 
Extra Costs to Consider
Moving a grand piano is a specialized service
In addition to the basic moving cost, there may be additional services that can incur extra charges. These services might include:
packing materials
special equipment for navigating stairs or narrow hallways
piano disassembly and reassembly
insurance coverage. 
When asking for a quote, it's important to discuss these details with the moving company and understand any potential additional costs.
Choosing Your Piano Movers
When moving your piano, you don't have to find "piano movers" - people who only move pianos. Moving companies often have the expertise and equipment needed to move your piano. 
The trick is finding a great moving company.
You can do this by looking for movers or removalists in your area. Find movers with great reviews and who say they can move large items like pianos. If they advertise the fact that they can do this and have positive reviews on their Google profile, for example, that's a great foundation. 
You also want to know that this company is properly insured to protect your piano during transportation. 
The next step is to get quotes from a few different moving companies. Note that cheaper isn't better in this case. You actually want movers who care, even if it's a few dollars more. 
Relocating a piano requires specialized skills and equipment to ensure its safety and protection during the move. While the cost of hiring a piano mover may vary based on factors such as distance, piano type, and additional services, investing in professional piano moving services is essential to safeguard your instrument.
By researching reputable moving companies, getting detailed cost estimates, and chatting about any specific requirements, you can enjoy peace of mind knowing that your piano will be handled with care and transported to its new location.



Aug 27, 23 08:10 PM

Learn how to play the Ab7 piano chord including notes, inversions, chord chart, video and more.

Aug 14, 23 12:54 AM

Chord progression practice is important & can take you far. Here are my top 10 tips plus progressions to practice on piano

Aug 13, 23 10:42 PM

Learn some great tips for teaching beginner piano lessons including lesson activities & materials, taking payments, behaviour issues & what to do in lessons.