How To Give Piano Lessons
Wondering how to give piano lessons? It's actually not that difficult once you figure out what you're doing and what piano lessons look like from a teachers perspective. 
This page you'll find:
 my step by step approach for how to give an actual piano lesson
determining what you should charge 
setting up how often students pay
how to keep your lessons organized and accepting different types of payments
setting up your home studio
how to get students (marketing your lessons)
It'll follow up with a few other tips on teaching piano. 

How To Give A Piano Lesson
This is a general piano lesson outline. I am always willing to change things around depending on the student's strengths, personality or mood of that day.

1. Warm-up

Usually the warm-up involves scales, triads, or whatever technique the student is working on. Just something to get the fingers moving. It will usually not be new information, I want to start with something they know.

2. Last Week's Pieces
Hopefully the student's have practiced and so we can go over the pieces they have been working on.
This is the point where you decide if they're ready to move on or if they need to continue improving on the piece they already have.
I always want to encourage students and let them know that they've done a good job. To me, encouragement is an important part of how to give a piano lesson. 

3. Starting new Pieces
In the middle of the lesson is where I usually will have the student start on a new piece. That way, they've had some success with previous things.
I always tell students it's better to start slowly and simply. Focus on the details so that next week when they come back, they'll have these things right.
It's very difficult to "unlearn" something. If the piece is difficult, just assign a portion of it. For some students, learning in blocks is very effective.
Note: some student's will be at a stage where they aren't learning new songs as they are more advanced and their pieces will take longer to learn.
4. Theory and Other Activities
 - Away From The Piano
After everything at the piano, I usually take the student away to a whiteboard or something else. This is where we do some sort of activity to help learning theory or rhythm or notes.
This is also the point where we would do any work from their theory book. If you include this in your plan for how to give piano lessons, I think your students will really benefit.
The main things I focus on for beginners are note naming, notes and values, and rhythm.
I write more about this my teach children piano page. If you're planning on teaching beginners, I go into details about activities I do in lessons on my teaching beginner piano lessons page. 
This is basically my formula for how to give a piano lesson.
There's lot's of room for change depending on the student. For example, with older students I may include things like ear training or composing or chords at the end. In general, I just want to start with something they know, do the difficult parts in the middle, and end with something they can be successful with. 
How Much Should You Charge?
A good way to figure out what you should charge is by seeing what others charge in your area. There are two main ways you can do this.
The first is to have a look online at piano teacher listings in your area. If this doesn't tell you what you need to know, ask at a local music store. 
Keep in mind that some teachers will really charge a lot as they would be highly trained and have degrees in music. Most won't be as expensive for students. 
If it seems right for your area, try out charging 1.5 times the minimum wage per half hour lesson. This doesn't quite work where I live at we have a high minimum wage. If people don't sign up with you, you'll also know you're charging too much.
How Often Should Students Pay?
I used to have student's pay for lessons on the day they showed up. This however led to lots of missed payments and missed lessons. 
What I do now is charge for all lessons in a month at the beginning of the month. Then if a student misses, they've paid and I'll do a make up lesson if it's due to illness or uncontrollable circumstances. If a student misses because they've forgotten they have to be somewhere and inform me at the last minute, I don't usually offer a makeup lesson.
Some piano teachers charge per school term. That can work if school terms are 10-12 weeks in your area. If they're longer, I'd recommend going monthly. 
Managing & Tracking
Payments & Lessons
Once you know how much you charge and how often and then start teaching, you get to a point where there are a number of students to keep track of. 
What can be difficult is knowing who has paid when and for what. Also keeping track of student's time slots, missed lessons, contact details and more. 
One great software program you can use is Music Teacher's Helper. This provides you with a number of things:
a website for marketing
ability to take credit card payments
lesson tracker
student contact details
and more
It's worth checking out if you're wanting to set up a studio and keep organized. 
Take a look at Music Teacher's Helper here.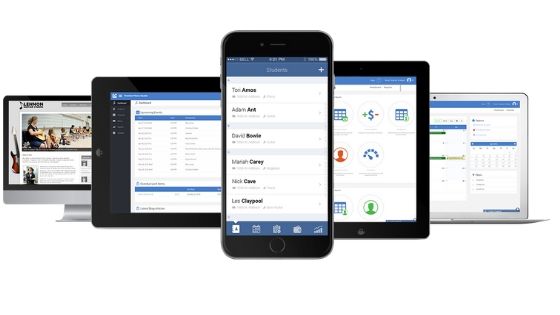 Music Teachers Helper
Setting Up Your Home Studio
When starting out teaching piano, it's good to set up a place in your home that will be a dedicated spot. 
You'll need a few things there. Some of the things I keep in my studio space are:
the piano or a very good quality digital keyboard
pen, pencil, eraser, whiteboard markers, whiteboard eraser
metronome
rhythm sticks
whiteboard
Those are my essentials. 
I also have a stool for little kids to rest their feet on as well as adjustable piano bench like this one on Amazon. I didn't use an adjustable bench when I first started teaching but I now find it so useful due to the different sizes of students.
It's also good to keep some cash around if people are paying you in cash so that you can give them change. 
I have a bit more information on studio set up on my teaching beginner piano lessons page.
Marketing Piano Lessons
Knowing how to give piano lessons isn't quite enough, you also need to know how to let others know about your piano lessons. 
I have tried a variety of ways to find students and for me, real world (rather than internet) has always worked better. 
Ways to Advertise Piano Lessons:
1. Flyer of Community Billboards
This has worked for me numerous times. Just put a notice up with little pull tags with your contact info. It's old school but it works.
2. Sign Outside Your House / Studio Location
Making a large sign up that says "Piano Lessons" plus a phone number is also a good way to get students. They will know the location which is a plus. This one has also worked for me. 
Just make sure your sign is big enough that people can see it as they drive by.
3. Word of Mouth
Let others know you are teaching. Talk to parents and mention it, they'll pass on to other parents that they know of someone who teaches. This is a good one. 
4. Facebook Community Groups
If you're able to advertise a business in your local community group, those are a good way to let people in your area know that you're offering piano lessons. 
I have gotten inquiries this way but actually no students. 
5. Facebook Ads
You can advertise on Facebook for piano lessons. You'll want to have a Facebook page set up for this for your piano lessons. This way people can contact you by message or phone 
I have done this and you can get quite a few views of your ad and really define it to your area. I have not gotten any students this way. (Even with over 10000 ad views!)
6. Music Teachers Directory
There are online directories of piano and music teachers. These are good and free and I recommend signing up to one of these. They've got top spots on Google when people are searching for piano lessons. 
You do want to be able to be found online in a search and this is a great way. Just do a search of "piano lessons [your area]" and see what directory comes up first. Then try to join that one. 
This is an example of a good music teachers directory online in Australia. 
Those are my main tips on how to give piano lessons.
I also have more information on teaching beginner piano lessons where I focus especially on activities and resources for beginners and teaching kids piano lessons where I focus on those kiddies and great ways to teach them. 
Return from How To Give Piano Lessons to Piano Lessons Info Homepage.